Product Introduction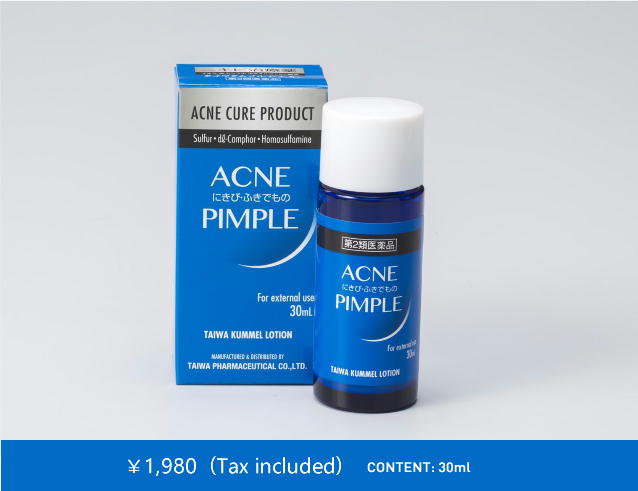 Acne Medication infused with 5% sulfur:
Sulfur dissolves and removes bacteria and dirt stuck deep in the pores and has bactericidal properties.

Medication effective against any type of acne:
Homosulfamine having antibacterial activities is added to the formula of "Kummerfeld's lotion", so it works well for any type of acne.
Product Outline
PRECAUTIONS FOR USE [CONSULT]

Consult a physician or a pharmacist, before using this lotion if;
(1) You are under treatment by a physician.
(2) You have a history of allergic symptoms induced by medicines.
(3)You have wide affected areas.
(4)You have affected areas with severe eczema or festering.
(5)You have affected areas with severe cuts or badly burns.



When the following Symptoms appear after using this lotion since there is a possibility of adverse reactions, immediately stop using this lotion and consult a physician or a pharmacist, bringing this package insert.


| | |
| --- | --- |
| Affected site | Symptoms |
| Skin | Rash/Redness, Itching |

When symptoms have not improved despite use of this lotion for 5 or 6 days, stop using this lotion and consult a physician or a pharmacist, bringing this package insert.
INDICATIONS
Acne (Pimple)
INGREDIENTS per 100ml
| | |
| --- | --- |
| Sulfur | 5.0g |
| dl-Camphor | 0.3g |
| Homosulfamine | 0.3g |
Additives
Sodium benzoate, Ethanol, Flavor, Benzyl benzoate, Benzyl alcohol, dl-α-Tocopherol, Glycerin, Gum arabic, Limewater
DIRECTIONS
Shake well before use, take an appropriate amount on the palm and apply affected areas several times a day. Or otherwise, use the supernatant fluid in the daytime and turbid fluid before bedtime.
Cautions on administration and dose
(1)Children should be supervised by their guardians while using this lotion.
(2)Don't apply this lotion to your eyes and around your eyes. Should it get into the eyes, immediately rinse it with water or lukewarm water.
In case of serious condition, see a ophthalmologist for treatment.
(3)Use this lotion for external application.
(4)Use this lotion exactly as indicate "DIRECTIONS".
(5)Before applying this lotion, clean the affected areas and its surroundings.
(6)Before using this lotion, those with sensitive skin should apply a small amount of this lotion on the inside of upper arm and make sure, on next day, there is no abnormality.
Cautions for storage and handling
(1)Seal tightly and store in a cool place avoiding direct sunlight.
(2)Keep out of reach of children.
(3)To prevent improper use and loss of quality, do not transfer this lotion to another container.